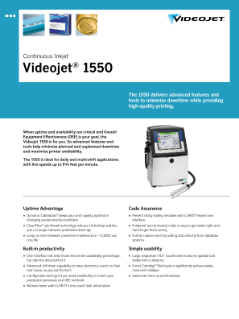 The 1550 delivers advanced features and tools to minimise downtime while providing high-quality printing.
When uptime and availability are critical and Overall Equipment Effectiveness (OEE) is your goal, the Videojet 1550 is for you. Its advanced features and tools help minimise planned and unplanned downtime and maximise printer availability.
The 1550 is ideal for daily and multi-shift applications with line speeds up to 914 feet per minute.
Back to Hub
Please enter your details below